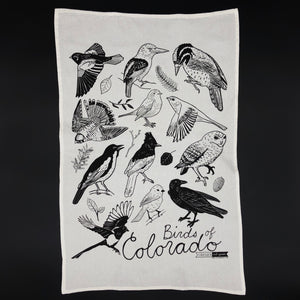 Screenprinted cotton flour sack tea towel.
Featuring....robin, magpie, woodpecker, hawk, Steller's jay, oriole, bushtit, finch, raven, lark bunting, woodpecker, and kingfisher! 
Made from original drawings by Sara Schalliol-Hodge. 

Great for drying hands, drying dishes, holding a teacup, etc.

about 16" x 24"

White cotton

Black ink
Colors may vary slightly due to computer screens. 
Machine wash warm or cool on a gentle setting.