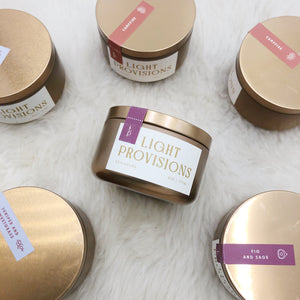 burn time: 25+ hours
6 oz tin 
tin height: 2"
tin diameter: 2.75
Ripened fig is blended with warm sage, sweet lavender, and dry woods. 
Poured in Colorado Springs, Colorado with 100% American-harvested soy wax 
and food-grade paraffin wax. Wicks are cotton-cored, primed in vegetable wax and always lead-free.  Our fragrances are blends of premium, phthalate-free fragrance oils, and essential oils.