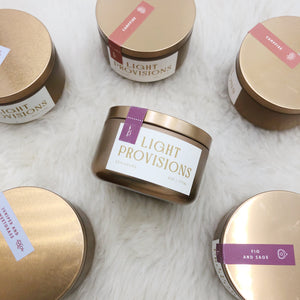 burn time: 25+ hours
6 oz tin 
tin height: 2"
tin diameter: 2.75
This scent is warm and rich all the way down. It opens on the nose with earthy molasses cookies and finishes in dark florals, like an old cabin chore coat, freshly laundered and tumbled dried with a handful of juniper berries.
Poured in Colorado Springs, Colorado with 100% American-harvested soy wax and food-grade paraffin wax. Wicks are cotton-cored, primed in vegetable wax and always lead-free.  Our fragrances are blends of premium, phthalate-free fragrance oils, and essential oils.